As I mentioned before, we have been in our house for 8 years. And of course I made all kinds of curtains for the house. Eric was first and his are of the moon and stars. It took him forever to pick out the material. He searched and searched for the right stuff, because he knew that he would have to live with it for a long time. I paid full price for them. I didn't know any better, so I got the fabric from Wal-Mart, and was very happy with the outcome. PJ finally got rid of the rid vine curtains this past year. I found some really outdoorsy fabric at Wilson when they had their Spring sale. It was only $1 a yard, for some very heavy duty fabric. He loves it and he is very happy with his curtains. It keeps the lightening out during storms, but still lets the morning sun in on nice days. Our bathroom got some curtains last year, right after Christmas.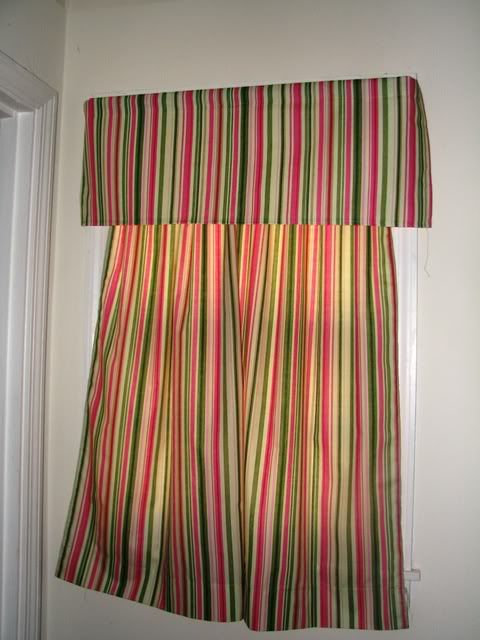 We lived with these awful curtains in there, and I found this stuff when a local place was going out of business. I was afraid that I didn't get enough, but it worked out nicely.

As for the other bathroom, you have seen what I have done in there. I am really happy with what I have been able to do.

But now, we have done nothing to our bedroom. Living with curtains that don't match. A set that I bought when we lived in Knoxville and then something that I picked up a few years ago. Couldn't find what I wanted to put in there, didn't want to spend the money that they were charging for them, or just didn't feel like buying anything at all. So, for 8 years, we have had mismatched curtains.

Now, we won't have to worry about that. I bought that material from Wilson's and was very happy with the choice. I knew what I wanted to do. But I only had 15 yards, I really wanted some that went to the floor, but I didn't have that much to make them with. And once again, I am not good with measurements, so, I had to hem and haw over the length of them. I measured once, measured again, and measured once more. Added the hem and the top inches and thought it through one more time. Finally, I got a number that worked. It gave me a length that worked well for me, it gave the gathering at the top too. So, I went with it. I cut the fabric the other day, and I will end up attaching about 19" to the bottom of one. That one will be behind the dresser. Everything else was measured twice, cut once. A good rule to live by.

And then today I decided to get it together. Between the heating unit and Chuck going into work for a little while, it took me a while to get it rolling. But, I got 2 done tonight, and I don't have to be at work until 5:30 tomorrow. Chuck has a meeting and I will be home alone, so, I will work on curtains for a little while.

This is what I have so far: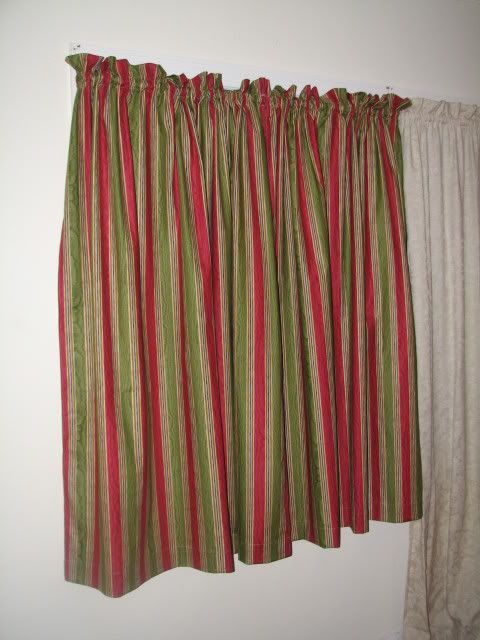 I am really happy with them. And they are even too! Sometimes they don't come out right, but this time, they are perfect.